Homeowners are always looking for ways to improve their home's functionality. If you've recently considered giving your garage floor a new polyaspartic floor coating, you know how to transform your space into a multipurpose area. However, if you use it simply to store your car, you may miss out on realizing its full potential. Garage cabinets and garage storage solutions can give you a space you can utilize in various ways.
Make a Cluttered Garage a Thing of the Past
Many people have walked into their garage, looked around, and wondered just how it became such a cluttered mess with objects scattered around. While no one goes out expecting their garage to become their home's junk drawer for decorations, lawn equipment, power tools, and other things that don't have a place in your home, the disorganization can quickly overwhelm you.
Without a proper storage system in place, your available floor space will be taken up quickly, and keeping your garage organized becomes something you could only dream about. We provide our clients with customizable garage storage systems to help make your garage a viable — and reliable — storage option for your busy life.
Customizable to Your Liking
Customization remains a main sticking point for people looking to revitalize their garage storage. Figuring out different ways to transform your space into something that can handle a wide range of possessions without getting too crowded or overloaded becomes vital. However, taking steps to ensure your garage has the storage capabilities to manage your daily life can prove challenging.
Not every garage is built the same. Some may be enough for a three-car garage, while others are used primarily as a workshop. Knowing how to optimize your available storage space and make the garage into something representative of your vision for it. We offer modular cabinet solutions, slated garage walls, and additional slat wall-mounted storage accessories and shelves that will help keep your space as organized as possible.
Create a Genuinely Multipurpose Space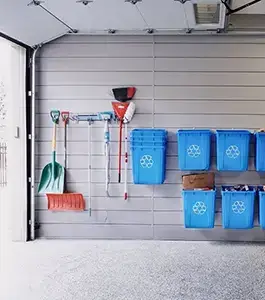 Many homeowners constantly look for ways to improve their home's overall value. It is invaluable to know how to add value to your home and make it into a space you can feel comfortable in. We work with our clients to help them visualize a garage cabinet system that suits their unique needs. Whether you have a robust tool kit that you want within arm's reach or you want to clear the clutter off of the ground, we can help you with installing garage cabinets and storage systems that give you the functionality you need.
Whether you're looking to move out in a few years or want to use your garage more effectively, our garage storage solutions can significantly impact you. We utilize a wide range of cabinets, shelving, and other customized storage solutions to create a garage that helps elevate your property's overall value in impactful ways.
Trust Garage Kings for Your New Garage Cabinets and Storage Solutions
When you decide your garage needs new storage solutions, you want to partner with a company that gives you the complete picture of what your garage can become. Garage Kings has become the most trusted name across the nation for expertly installed polyaspartic garage floor coatings. Now we want to give you the chance to transform one of the biggest spaces in your home into a multifunctional space that you can use for years. Our unique garage storage solutions and cabinets allow you to tap into the unrealized potential of your garage and turn it into a space you never want to leave.
Contact our team to learn more about our garage storage solutions, and contact your nearest Garage Kings location to set up your first consultation today!