Caring for your new floor
Your Garage Kings floor will fully cure in two weeks, and the first 72 hours are the most important. During this period, the following tips will help ensure your floor cures properly: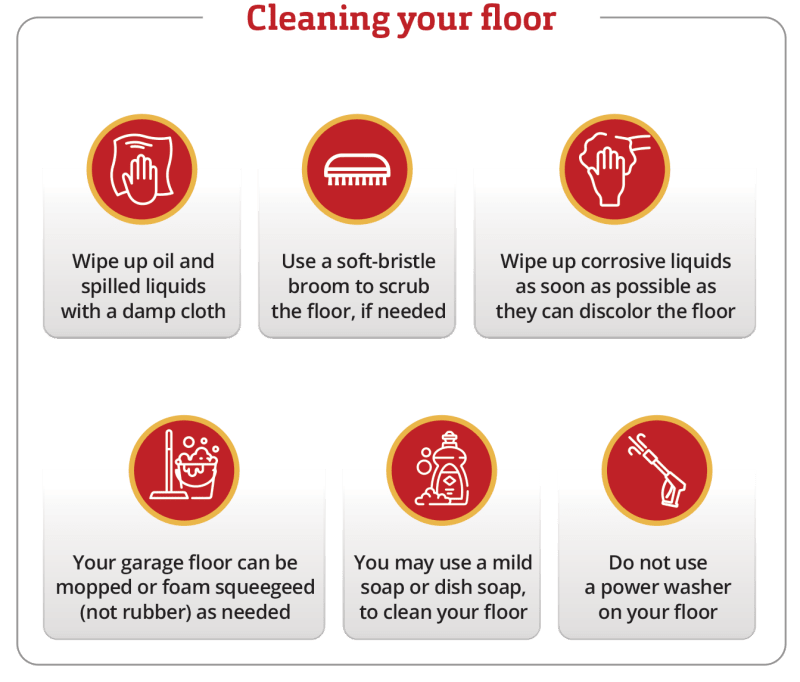 Exercise caution on your floor
The surface may become slippery under certain conditions, including, but not limited to, exposure to wet, oily or greasy conditions. Always exercise caution while on your floor.
Your floor may be damaged by grease, oil, gasoline, transmission fluid or battery acid. These elements can cause coating to dull in areas where spill or exposure occurs. To avoid such damage, ensure you regularly clean your floor and avoid the use of harsh chemicals or scrubbing/buffing machines.
The Garage Kings topcoat is scratch and impact resistant under normal conditions. The topcoat will, however, scratch and/or chip if heavy or sharp objects are dropped onto, dragged or slid across the floor. General care and caution should always be exercised.
To ensure against staining, any rusty metal items require protection between the floor coating and the metal item.
To avoid tire staining or tire marks on your floor, vehicle pads are recommended for motorcycles, all-terrain vehicles, high-performance vehicles, and vehicles that are not moved regularly. Appropriate vehicle pads include: clear pieces of acrylic, pieces of aluminum diamond plate, or strips of carpet. Do not use vehicle pads with a rubber backing.
Concrete cracking, heaving, shifting, popping, settling or ground movement can also damage your floor. These issues are not related to floor coating installation and are not included in our warranty.
Aggregate pops may occur in the concrete when moisture pushes the aggregate up and out of the concrete. These pops are unavoidable when this happens and are not included in our warranty.
While application of the Garage Kings floor coating system greatly increases protection from water and moisture intrusion, it is not intended to be a waterproofing solution. Shifting and moving of the precast concrete may occur. Garage Kings does not guarantee against water leakage or intrusion to areas below precast concrete or the actual surface coated. Moisture intrusion, hydrostatic pressure or other moisture-related issues are not included in our warranty. These may be repaired for an additional charge.
If there is ever a need for a touch-up or repair, there may be a variation in the coating and/or flake colors after the repair is complete. Although Garage Kings will make every attempt to blend the colors, the repair may be noticeable.