Certified Installers
If you've decided it's time to upgrade your home's garage floor, you don't want to leave it in the hands of any garage flooring company. Finding experienced certified installers that can ensure your new garage floor gets installed as seamlessly as possible is vital. Our goal is to provide our team with the most comprehensive training to give you a flawless finish.
Our training programs ensure every Garage Kings location has a fully staffed and trained team of certified installers on call to help complete their flooring project as professionally as possible. We take our training program seriously and ensure our team receives the rigorous training they need to best serve our clients.
Every one of our certified installers undergoes our comprehensive training process before they ever set foot on our client's property. We understand that your home's indoor and outdoor flooring form the foundation of your property, and you need to get the best team to handle the job.
Read More

PowerPoint and Classroom Training

Our training process begins with our installation training manual and an in-depth PowerPoint training covering everything from the beginning of a specific project to the final job site cleanup. These sessions consist of six-hour days in the classroom, which are required for installers to complete their training. In addition, every trainee receives a training binder which includes the manual, printouts of the slide show, details about product usage, and coverage sheets.

Tool and Equipment Training

After we go through the in-classroom training, we move on to hands-on training with our tools and equipment. We show our trainees how to properly store, handle, and utilize each instrument in their arsenal. Over the course of four and a half days, our trainees learn how to best use these tools, put them to use working for our clients, and transform them into certified polyaspartic and epoxy installers.

Flake Installation

One of the most critical parts of the installation process for our certified polyaspartic and epoxy installers is laying out the vinyl flakes across the surface. If there's a mistake during this portion of the project, it could ruin the entire project. Therefore, we show our trainees how to correctly install the base coat, flake, and top clear coat to ensure a successful installation. Our trainees undergo a four-and-a-half-day training process to understand the importance of getting every step of the project right the first time.

Final Day

On the final day of the certification process, each trainee who completes the course receives a certificate valid for three years. After those three years, they should come back and get recertified before going out on more projects. Now that they have become certified garage floor contractors, they're ready to help our clients bring the visions for their homes to life. We're constantly updating and refining our technique, and we want our certified installers to be as up-to-date as possible with our best practices.

Certified Epoxy Flooring Contractors

We don't only train our team on installing beautiful polyaspartic garage floor coatings — we're also experts in basement and patio flooring solutions. Our certified epoxy flooring contractors can come to your home, examine your basement or patio, and perform an epoxy flake floor installation quickly and efficiently. Our certified installers understand that you want indoor and outdoor living spaces that can withstand the rigors of your daily life. It's why we put them through such vigorous training before they ever set foot in your home. From basement floor coatings to new patio floors, our epoxy flake floor installation team has you covered.

Certified Polyaspartic Floor Coating Contractors

First and foremost, we want our clients to feel completely comfortable trusting one of the largest rooms in their homes to our team. Our training process ensures that we only employ the best certified polyaspartic floor coating contractors in the industry. Every installer takes the training process seriously and understands the importance of mastering every step of our process.
Want to Become a Certified Installer?
Joining the Garage Kings team as one of our certified garage floor contractors represents a commitment to excellence and learning about our industry-leading process. If you're up to the challenge, please visit our careers page and see if you're a fit for the team. We can't wait to hear from you!
Find a Location Near You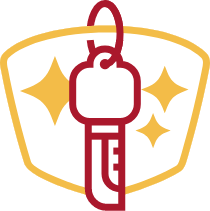 Franchise Opportunities
Get in on the ground floor of something great. Become a Garage Kings franchisee.